Description
7StarLake Cloud15-PX6 rugged mission-critical panel computer, retaining exceptional features of SKY15-P20, with LCD super brightness up to 1000 nits and night vision (NVIS) under 1.6 nits, optical bonding of protective glass (GFG) touch screens, EMI filtering / EMI mesh shielding, and anti-reflection/anti-glare (AR/AG) coatings, possess also built-in CPU module w/ Intel® Core™ 11th Generation Tiger Lake Processor and 6 programmable function keys. The rugged panel computer is designed with IP-65 waterproof and dust-proof all-aluminium housings, supporting extended operating temperature range from -40 to 60°C and flexibly support extended DC power input range from 9V to 36V (6V to 36V option).
Compact Core I-based C4ISR rugged system
Driven by Intel® Core™ 11th Generation Tiger Lake Processor soldering onboard, with outstanding CPU and graphic performance supported by Intel UHD graphics for 11th Gen Intel® processor, Cloud15-PX6 is launched as a competitive panel computer for C4ISR application. 7StarLake CLOUD15 is an ideal solution for both land and naval battle. Through multi-connection with calculate computer, sensor, and control system, receiving information from image processing computer connecting with surveillance devices, Cloud15-PX6 brings its superiority into full play on surveillance and critical mission assistance.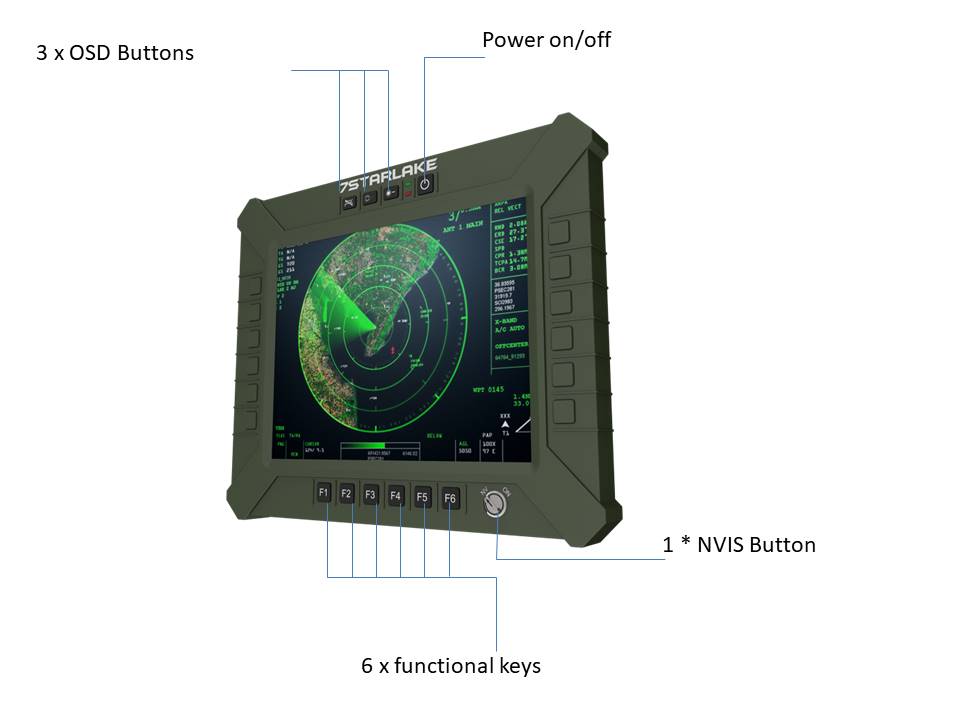 Super Brightness 1000 nits & Night Vision under 1% nits
7StarLake Cloud15-PX6 ruggedized panel computer equipped dual LED backlight control systems, can support sunlight readable high bright and exceptional low nits readable. By switching the hardware key, the operator can select standard mode or night vision mode in case of misuse and damage night vision optical devices.
When system at standard mode, the operator can adjust brightness remotely by software or locally by hardware key to turn it to brighter or darker, but once the operator switch it to night vision mode, the display brightness down to default 1 % nits or other customized night vision mode immediately, the brightness adjustment key functionality locked automatically, and the display gets ready at low brightness right away once its trigger and protect the usage of night vision devices at once.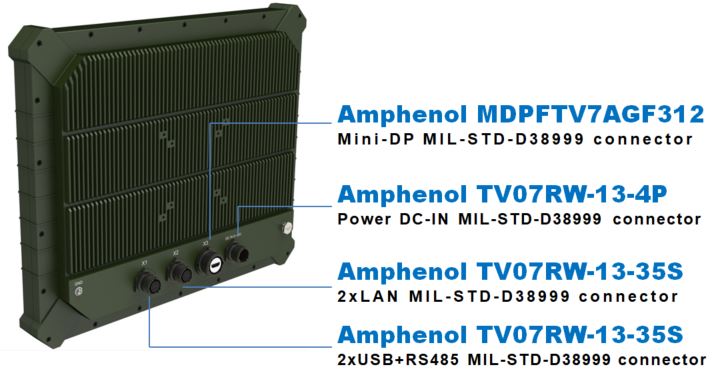 MIL-STD-810, MIL-STD 461F and Full IP65 level protection
Cloud15-PX6 as a military rugged display has the following compliance of MIL-STD-810 standard for shocks, vibration, humidity, high / low temperature and temperature shock; and MIL-STD-461 standard for EMI and EMC, for size, weight, and power.
MIL-STD-810 standard is a Military Standard established by United States Department of Defense considered the utmost principle for military ruggedness request. It provides a series of testing procedures for resistance to water proof, shock, vibration, dust, humidity, and extreme temperatures and Cloud15-PX6 is designed to comply to the series of tests concerning on sustainable in such harsh environment.
Since Cloud15-PX6 is designed and tested to be used in Military applications requiring, 7StarLake's mechanical design not only provides enhanced shock and vibration resistance for optimum operability in harsh military conditions, the ability for configure with EMI mesh is also essential. MIL-STD-461 is a requirement for the control of electromagnetic interference characteristics of subsystems and equipment. The power solution of Cloud15-PX6 input EMI filter that enables compliance with MIL-STD-461 for applications requiring MIL-STD-461 certification.
7StarLake offers rugged panel computer sealed to the IP65 level for water and dust protection. Cloud15-PX6 is designed to ensure complete harsh environment protection, ideal for wet and dusty conditions. Based on the above points, Cloud15-PX6 has complete resistance to dust and water; which is ruggedized and reliable for constrained military, ground army, defense, air traffic management and air traffic control applications.
6 Programmable ruggedized function keys design
7StarLake ruggedized mission displays equipped up to 6 ruggedized function keys by rubber-tooling made, each key pad dimension at 16 x 16 mm even the operator access function keys with wearing MOPP levels gloves.
MIL-461/1275 EMI Filter
CLOUD15-PX6 is designed with MIL-STD-1275/704, protecting against vehicle/aircrafts voltage surges, spikes and transients, and even electromagnetic interference. This characteristic is well suited for the strictest military requirement and deliver optimal performance in harsh conditions.
Intel® Core™ 11th Generation Tiger Lake Processor
Performing in an unprecedented harmony, the new core and graphics architectures, AI-based intelligent performance, and best-in-class wireless and wired connectivity1 of 11th Generation Intel® Core™ processors push laptop and desktop performance to new heights.
The Intel® Xe graphics architecture supports incredibly rich entertainment experiences on laptops and desktops, like 4K HDR and 1080p gaming. While up to 20 PCIe 4.0 lanes support the latest discrete GPUs.
Advanced, built-in artificial intelligence (AI) introduces new capabilities and works in tandem with the applications you rely on every day to optimize the speed and flow of tasks, making it easier to get things done.
11th Gen Intel® Core™ processors built on the Intel vPro® platform deliver hardware-based security and modern remote manageability to IT along with amazing business-class PC performance gains for employees.