Description
SKY12-P04 rugged smart display which are featuring brightness up to 1000 nits and night vision image system (NVIS) under 1% nits, bonding of protective glass (GFG), touch screens, SKY12-P04 also provide optional feature such as EMI filtering / EMI mesh shielding, anti-reflection/anti-glare (AR/AG) coatings depend on customized requirement. 7 soft touch button /w programmable function keys, the rugged display also designed with IP-65 waterproof and dust proof all-aluminum housings, support extended operating temperature range from -10°C to 70°C and flexibly support MIL-STD 461/1275 power input range from 18V to 36V.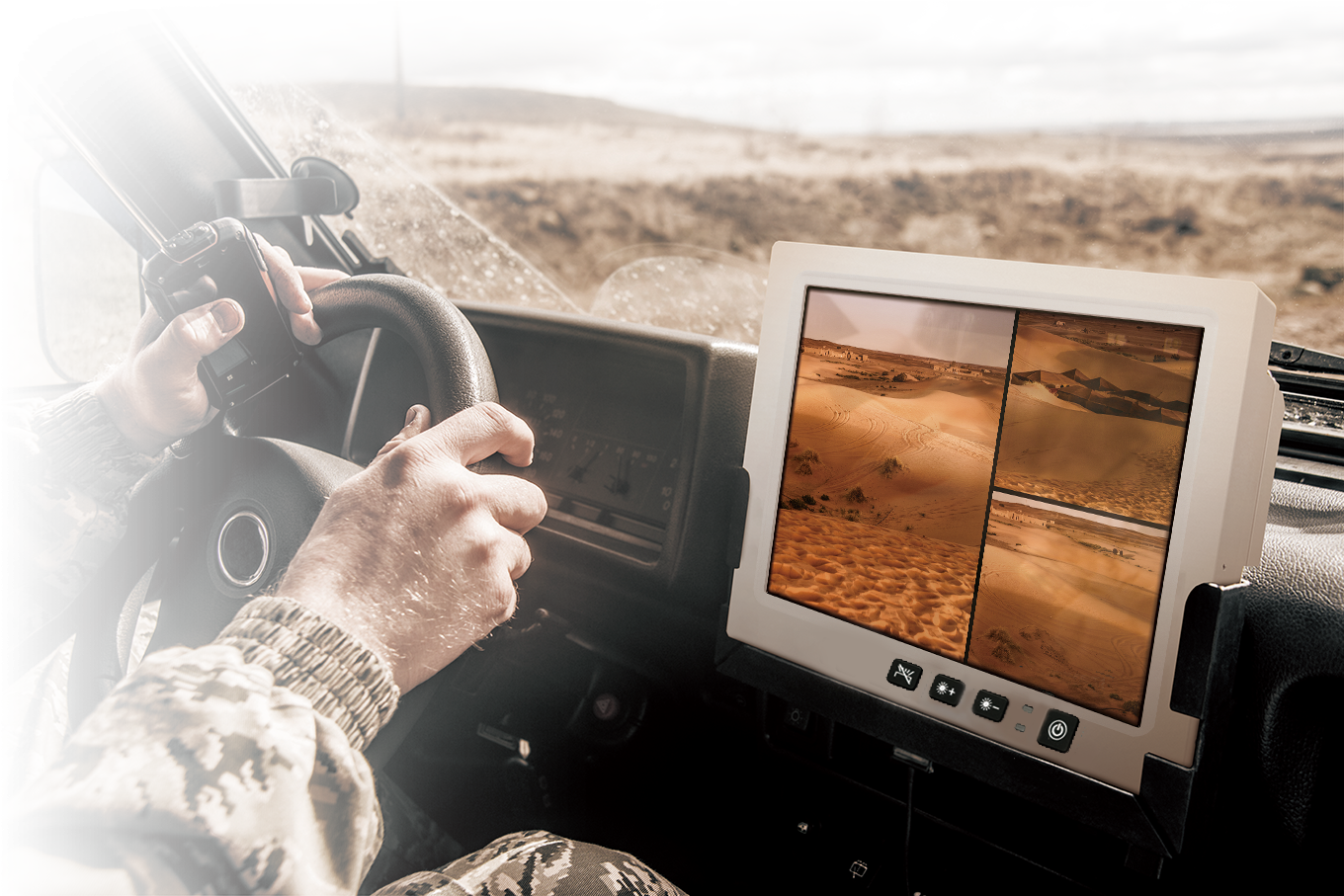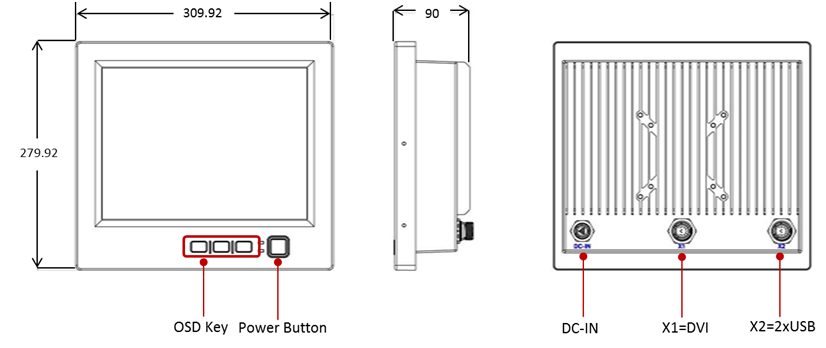 Sunlight Readable Up to 1000 nits
SKY12-P04 ruggedized smart display can support sunlight-readable to meet high ambient light conditions such as direct sunlight, it also adopt our excellent optic bonding technical process, when bonded together the light passes through the bonded layers and is absorbed somewhat into the screen. Optical bonding is therefore important in making screens sunlight readable.
Night Vision Mode Support
When system at night mode, the operator can adjust brightness by hard key to turn it to darker, the display brightness down to under 1% nits or other customized night vision mode immediately, and the display gets ready at low brightness right away once its trigger and protect the usage of night vision devices at once.
Key Features
(1)MIL-DTL 3899
MIL-DTL-38999 is a high-performance cylindrical connector family designed to withstand the extreme shock, exposure and vibration that are commonplace in Defense and aerospace applications. Made with removable crimp or fixed hermetic solder contacts, these connectors provide high-vibration characteristics and are suitable for severe wind and moisture problem areas.
(2)G.F.G. Resistive Touch Screen
GFG touch screens are operable with fingers, pens and gloves. The glass surfaces makes the glass-film-glass sensor very durable and scratch resistant (7H).
(3)Soft Touch Buttons
SKY12-P04 equipped up to 3 ruggedized function keys, 3 OSD keys and 1 power button by rubber-tooling made, each key pad dimension at 16 x 16 mm even the operator access function keys with wearing MOPP levels gloves.
(4)IP65 Certified
SKY12-P04 has complete resistance to dust and water; which is ruggedized and reliable for constrained military, ground army and defense.
(5)MIL-STD 810G Compliance
SKY12-P04 compliances of MIL-STD-810 for shocks, vibration etc; SKY12-P04 is rigorously field-tested to meet or exceed MIL-STD810G a for extremely high & low temp. humidity, shock, and vibration.
(6)MIL-461/1275 EMI Filter
SKY12-P04 is designed with MIL-STD-1275/704, protecting against vehicle/aircrafts voltage surges, spikes and transients, and even electromagnetic interference. This characteristic is well suited for the strictest military requirement and deliver optimal performance in harsh conditions.