Description
HORUS430-X2A45 is a cutting-edge 2U short depth Military Dual MXM A4500 GPU Server, powered by the formidable Intel® Xeon® Silver 4314 (3.4GHz, 16 Cores, 32 Threads, 24MB Cache), and equipped with dual NVIDIA RTX™ A4500 MXM (5888 CUDA, 16GB GDDR6) . This powerhouse is purpose-built for mission-critical Edge AI applications, delivering superior computing capabilities that effortlessly handle heavy workloads.
With its exceptional processing power, HORUS430-X2A45 sets new standards for Edge-AI workstations, seamlessly executing tasks such as facial recognition, target acquisition, and Network Visualization at unprecedented speeds. On top of that, its 2 x 10GbE Fiber capability ensures ultra-fast data transmission from external sensors, offering near-zero latency and impeccable synchronization for time-critical operations. HORUS430-X2A45 redefines what's possible in Edge AI computing, providing an unmatched solution for your most demanding tasks.
Ultra-High Performance Intel® Xeon® Scalable Processor
Ultra High Performance Intel® Xeon® Silver 4314(16 Core)
Dual NVIDIA RTX4500 MXM (5888 CUDA)
2x 10-Gigabit Ethernet support
Up to Up to 2TB DDR4 ECC RDIMM
Windows 10/Server, Linux, VMware Compatible
MIL-STD-810G Thermal, Shock, Vibration, Humidity
MIL-STD 461 EMI/EMC 18V~36V DC-IN(28VDC) Extreme Temperature Support -20~+60°C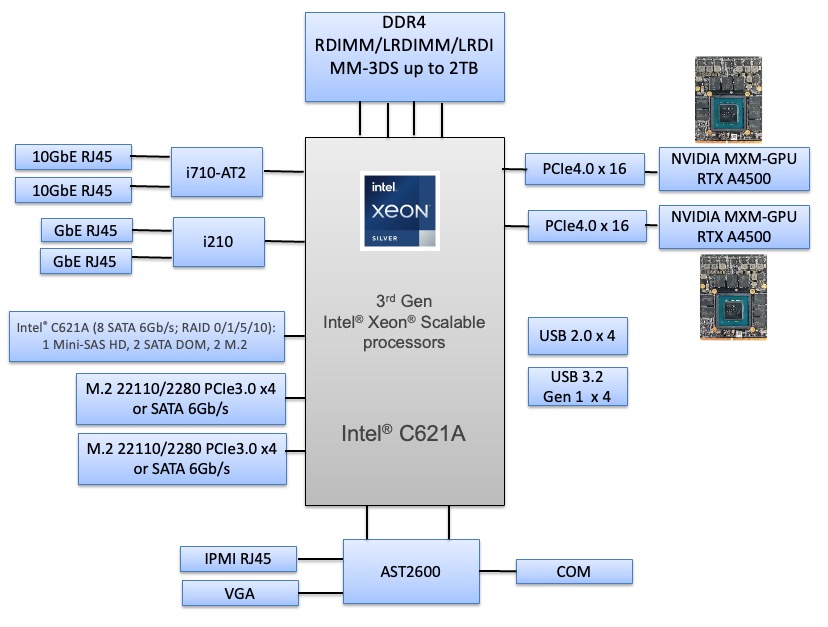 Powerful Performance for Professionals
NVIDIA® RTX™ A4500 MXM
Built on the revolutionary NVIDIA Ampere architecture, NVIDIA® RTX™ A4500 MXM(5888 CUDA, 16GB GDDR6) sets a new standard for computing power. From tackling complex machine learning algorithms to pushing the limits of computer vision, NVIDIA® RTX™ A4500 MXM ensures unparalleled efficiency and accuracy, making it the ultimate choice for professionals seeking transformative results in their AI applications.
With a single RTX™ A4500 MXM, embrace the true potential of AI computing, envision a world of limitless possibilities with dual RTX™ A4500 MXM setups. Designed with RTX™ A4500 MXM, HORUS431-X2A45 will you step into the realm of advanced AI computing and unlock a realm of innovation and precision like never before.