Description
The global transformation is rapidly scaling the demands for flexible computer, networking, and storage. Future workloads will necessitate infrastructures that can seamlessly scale to support immediate responsiveness and widely diverse performance requirements. The exponential growth of data generation and consumption, the rapid expansion of cloud-scale computing and 5G networks, and the convergence of high-performance computing (HPC) and artificial intelligence (AI) into new usages requires that today's data centers and networks evolve now— or be left behind in a highly competitive environment.
7Starlake's HPC3000-IL 3U IP65 Military Dual-GPU Server features 3rd Gen. Intel Xeon Scalable (ICE LAKE) ® Silver 4316 processor ( 20 Cores, 2.3 GHz, 150W) with 2 x NVIDIA Quadro RTX A4000 GPU, 2TB RDIMM ECC DDR4-3200MHz and 2TB by Gen 3.0 NVMe M.2, 8 x 2.5" Easy Swap HDD/SSD Tray(RAID 10 support), to provide the seamless performance foundation for the data centric era from the multi-cloud to intelligent edge, and back.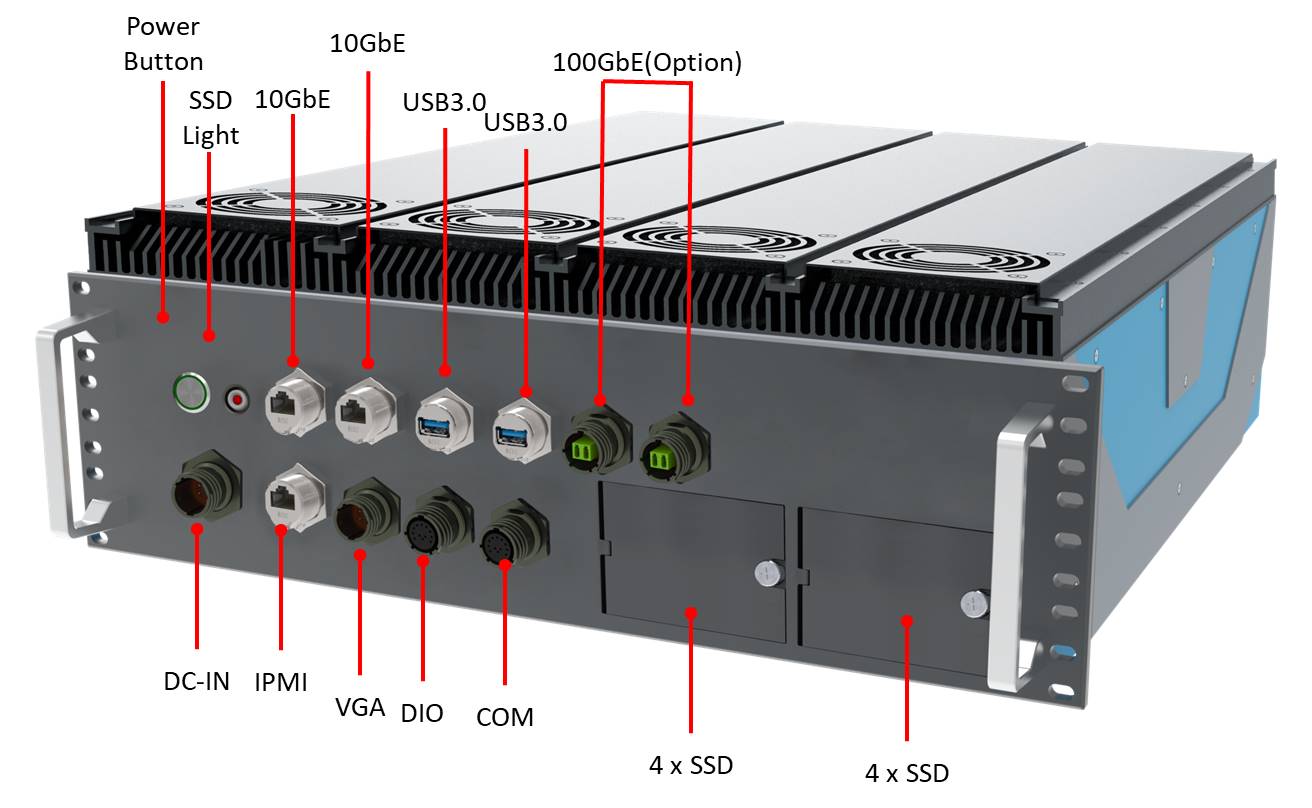 Intel's 10nm Ice Lake Xeon With 40 Cores, PCIe4.0
Today's scientific discoveries are fueled by innovative algorithms, new sources and volumes of data, and advances in compute and storage. Machine learning, deep learning, and AI converge the capabilities of massive compute with the flood of data to drive next-generation applications, such as autonomous systems and self-driving vehicles. Recognising this demand, 7STARLAKE employs 3rd Gen Intel® Xeon® Scalable processors that are built specifically for the flexibility to run complex AI workloads on the same hardware as existing workloads to be the CPU of HPC3000-IL.
Intel Ice Lake is based on 3rd Generation Intel Xeon Ice Lake Scalable Processor in LGA4189 Socket with C621A chipset, up to 40 cores, 270W TDP. Intel Ice Lake-SP processors will be based on 10 nm+ process node. The mail highlight of Ice Lake-SP processors will be support for PCIe Gen4 and 8-channel DR4 memory.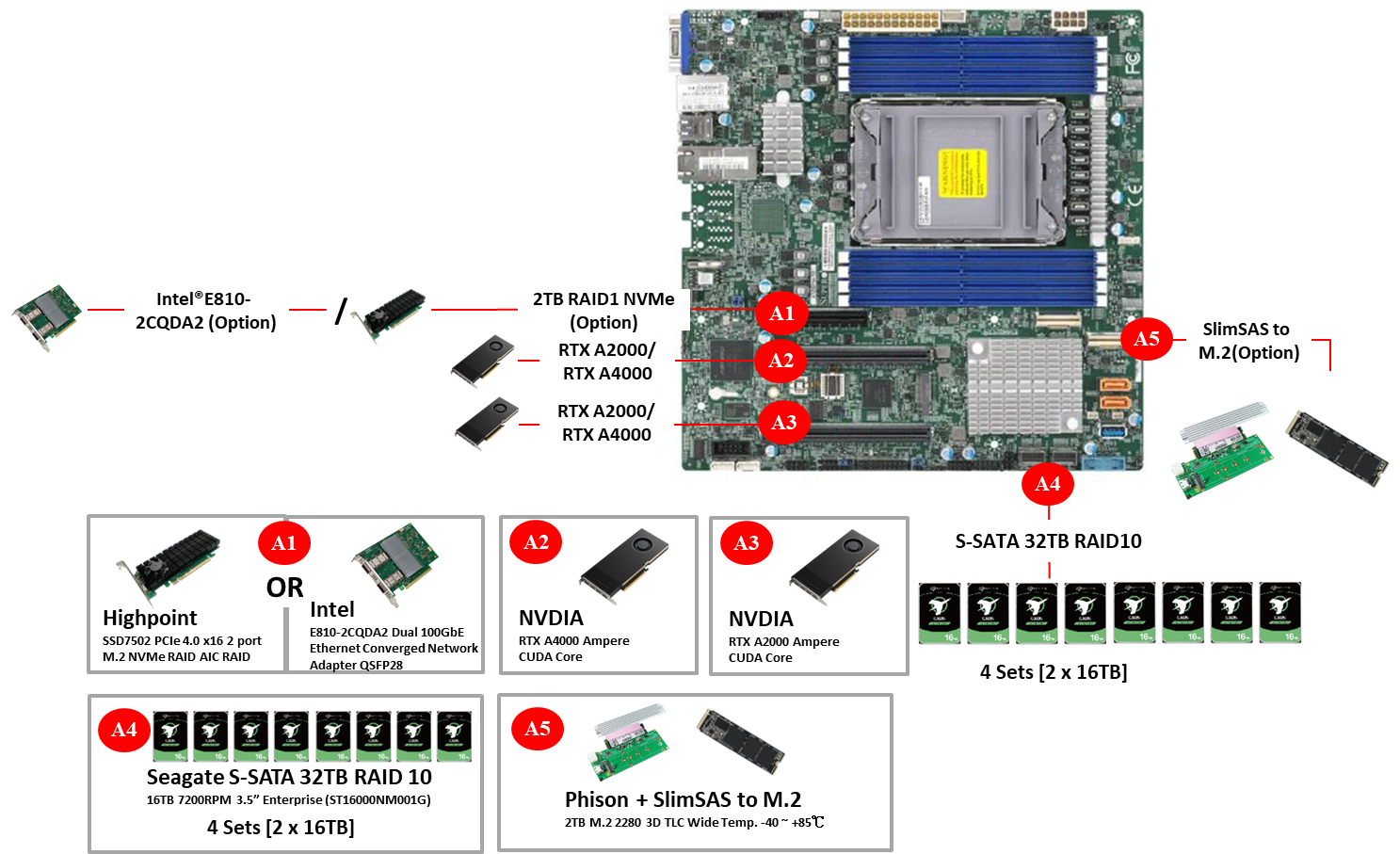 NVDIA RTX A4000 GPU
NVIDIA RTX™ technology has fundamentally changed computer graphics, blending real-time ray tracing, artificial intelligence, and the power of advanced graphics and computing to drive the next wave of innovation in visual computing. The NVIDIA Ampere architecture is the second generation of NVIDIA RTX—providing a higher level of power and performance for professional workflows to accelerate time-to-market and time-to-solution.
The NVIDIA RTX A4000 series graphics cards bring the power of RTX to more professionals with a powerful low-profile dual-socket GPU design, delivering instant ray tracing, AI-accelerated computing, and high-performance graphics to your desktop. Based on the NVIDIA Ampere architecture, the VR ready RTX A2000 combines 48 second-generation RT cores, 192 third-generation Tensor cores, and 6,144 next-generation CUDA® cores with 16GB of GDDR6 .It is another industry first in this product range.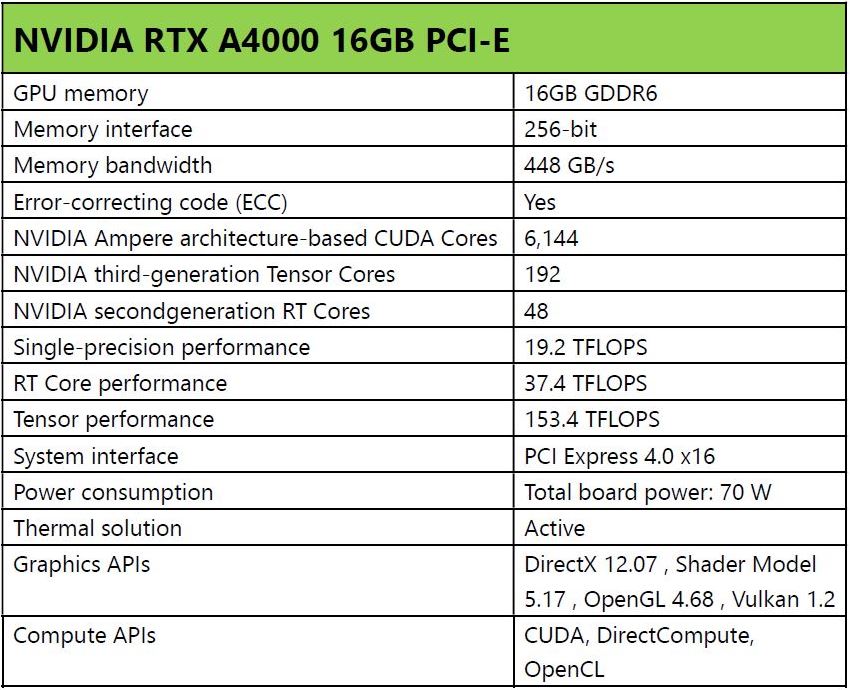 Dual 100GbE E810-2CQDA2
The Intel Dual Port 100GbE Ethernet Converged Network Adapter E810-2CQDA2 is the foundation for server connectivity, up to 200Gbps for bandwidth-intensive workloads, providing broad interoperability, critical performance optimisations, and increased agility for Telecommunications, Cloud, and HPC. The E810-2CQDA2 offers two ports of wire-speed 100GbE and is backward compatible to 50GbE / 25GbE / 10GbE / GbE.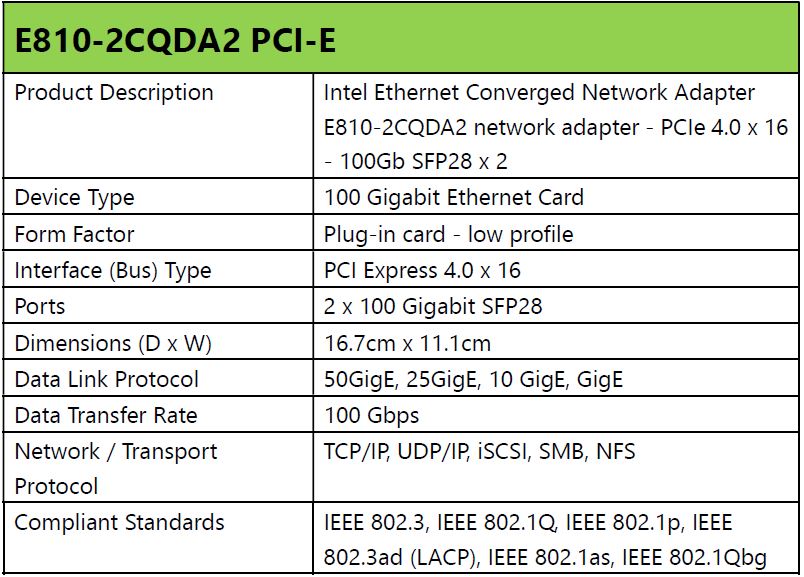 Highpoint RAID SSD-7502
The SSD7502 is the industry's fastest Dual-Port PCIe Gen4 RAID controller, and features bootable RAID support for Windows and Linux based platforms. The low-profile SSD7502 incorporates a state of the art Gen4 PCIe Switch Chipset to ensure each M.2 port has x4 lanes of dedicated bandwidth. HighPoint's 7500 Series combine dedicated, cutting edge PCIe Gen 4 x16 host connectivity with our industry proven RAID technology to deliver unbeatable storage performance.