Description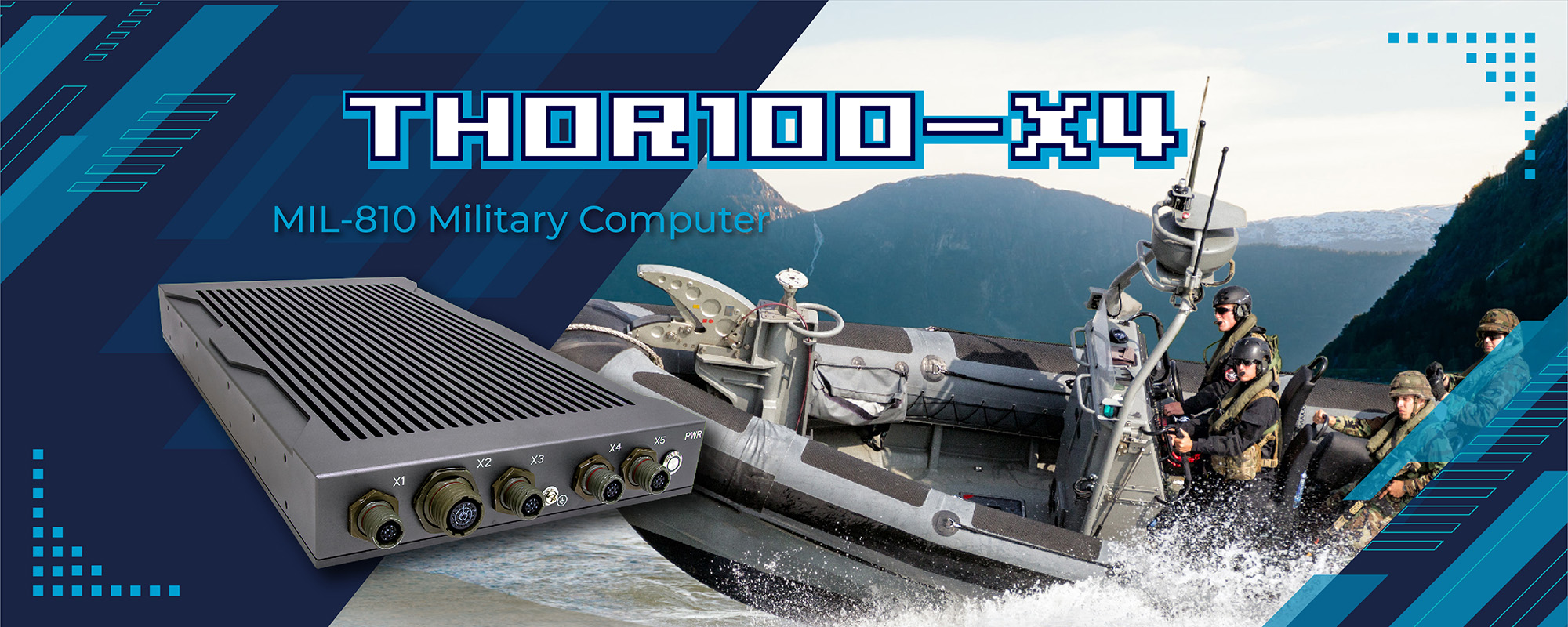 The nature of the military operation and existence is changing due to technology. The performance, reliability, and stability of the application become important, and so is the durability of the application to the operating temperatures, shock, and vibration requirements of challenging environments.

THOR100-X4-D7E – 1U Half Size Rugged Mission MIL-STD 810 Computer is built to meet strict size, weight, and power (SWaP) requirements and to withstand harsh environments, including temperature extremes, shock/vibe, sand/dust, and salt/fog. The THOR100-X4-D7E equipped Ultra-High Performance Intel® Xeon® E-2276ML is fully qualified IP65 with D38999 connectors which can offer the most powerful performance and ready to handle harsh environments in battle-field, such as sustain 75 g shock in the maritime applications.
In order to satisfy the requirement of Naval System Application and reducing the SWaP, THOR100-X4-D7E is driven by powerful processor, and equipped with high speed serial interconnects 2x LAN, 1x DC, , 2x DVI, and 2x USB3.0. It also withstand extended temperature -40°C to +70°C and wide voltage input MIL-STD 461 18V~36V, to make it an ideal solution for Military type rugged applications.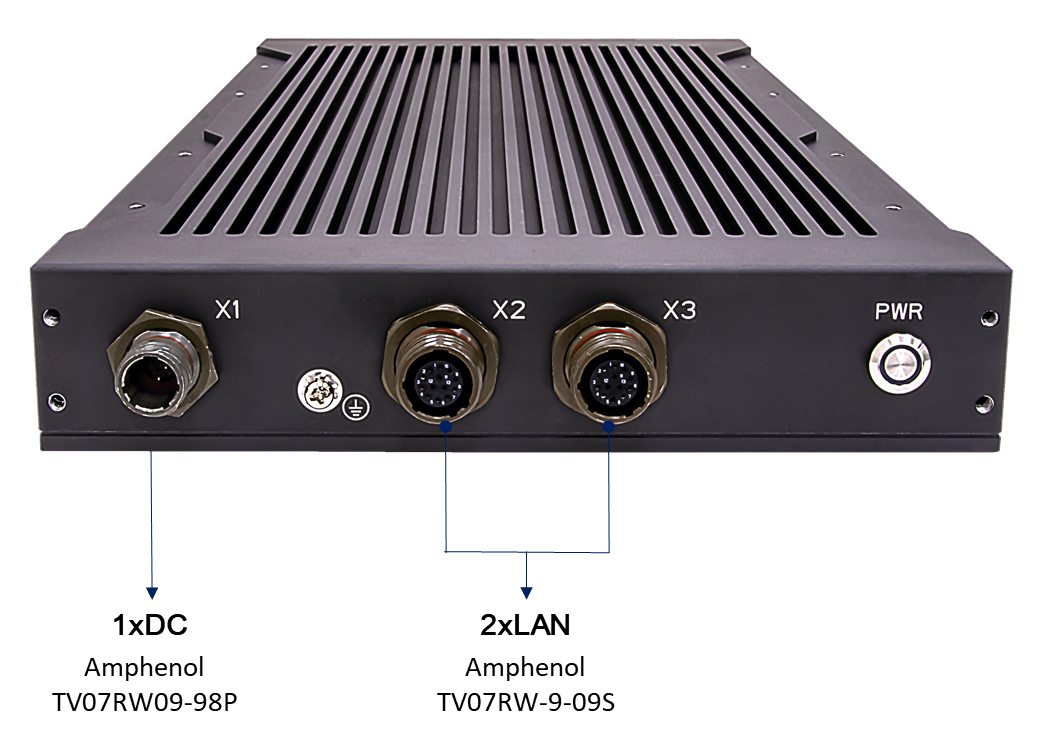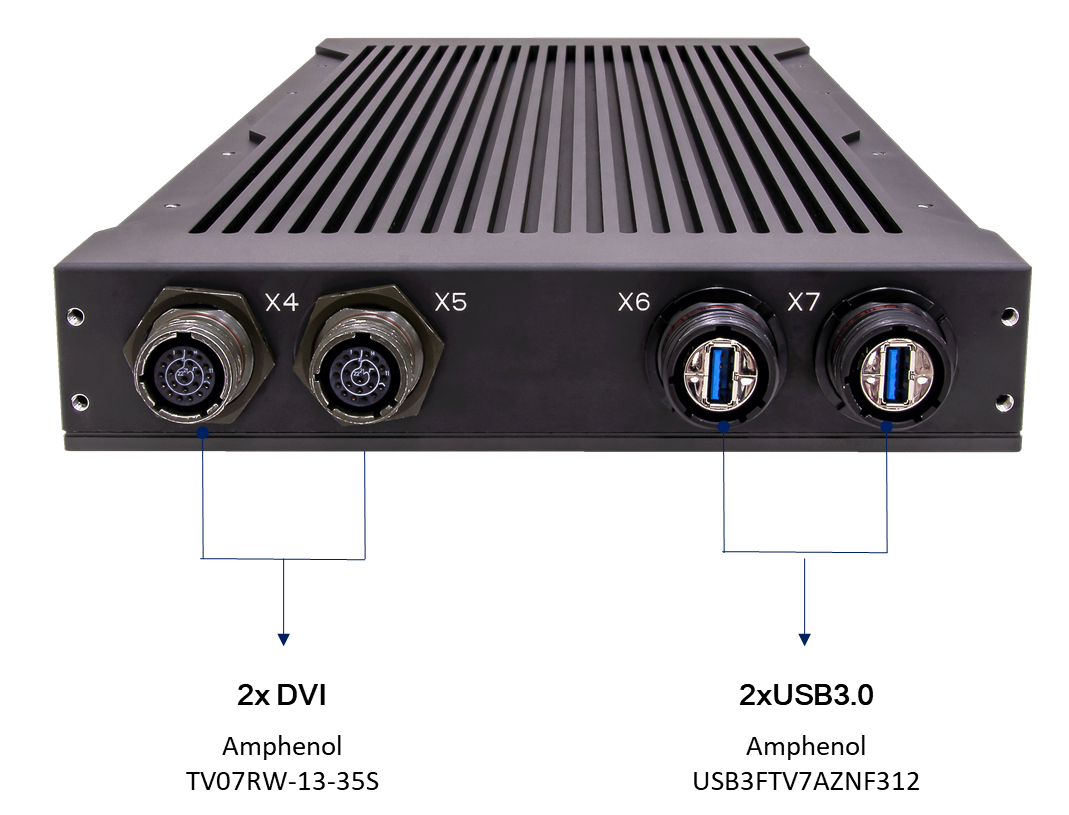 Features
Computing Features
– Xeon E-2276ML (up to 4.20 GHz), 25W
– 4 x 260 Pin DDR4 SO-DIMM (up to 128GB)
– 1 x M.2 2280 M-key (SATA/PCIe 3.0×4 NVMe)
I/O and Expansion Options
– X1 : One 9V~36V DC-in with D38999 connector
– X2 : One LAN with D38999 connector
– X3 : One LAN with D38999 connector
– X4 : One DVI with D38999 connector
– X5 : One DVI with D38999 connector
– X6 : One USB 3.0 with D38999 connector
– X7 : One USB 3.0 with D38999 connector
Environment
-MIL-STD-461 wide range 9-36V DC power module with EMI Filter
-MIL-STD-810, 461 compliant
Operates up to extended temp -40°C to +70°C
Robust Product Design Ready For Military Application
Design for Naval Defense System; Withstand MIL-STD-810 Shock Up to 75G rms
In Naval Defense System, the application must be withstand detonating explosives in water and assessing the resulting high-impact mechanical shock. MIL-STD-810 standard is considered the upmost principle of the environmental design. With using the shock tester, it can analyze the product ability to tolerate the strong external stress and the degradation of structural weaknesses to quickly obtain the data of structure strength, anti-shock appearance and anti-drop. The shock tester is using the sawtooth wave to evaluate the product reliability and monitor the consistency of production. To assure the application is supporting a mission-critical hardware, THOR100-X4-D7E are designed to meet with the strict standards of MIL-STD 810 shock up to 75G rms.
MIL-STD-461 EMI Filter, Wide Voltage Power Input 18V~36V
To withstand under any kinds of application challenges, system with wide range designed is brings maximum reliability and stability. THOR100-X4-D7E is designed with MIL-STD-461 EMI, protecting against voltage surges, spikes and transients, and even electromagnetic interference. Wide voltage power input design (18~36V) can protect the system from damages caused by sudden surge of voltage, especially in Navy application, thus further secure the reliability of its critical components and the system itself.