Description
AV600TH is driven by Intel® 11 Gen. Tiger Lake-H Processors, integrated Intel® UHD Graphics (Xe architecture). Tiger Lake H processor is built on 10nm SuperFin Technology, up to 8 CPU cores and 4.5 GHz frequency. It is high computing performance and flexibility for heavier IoT workloads, the platform posts significant performance gains gen-over-gen with up to 32 percent gain in single-thread performance. It also features in high-bandwidth, high speed I/Os for expansion and peripherals.
AV600TH highlights on its rugged design and high functionality, the system especially installed MIL-STD Amphenol type connector and full IP66 protection allow system withstand in any kind of harsh environment. AV600TH supports extended temperature from -40°C to 70°C and MIL-STD-461 18V~36V DC-input Power supply which can protect system from damages caused by sudden surge of voltage, thus further secure the reliability of its critical components and the system itself.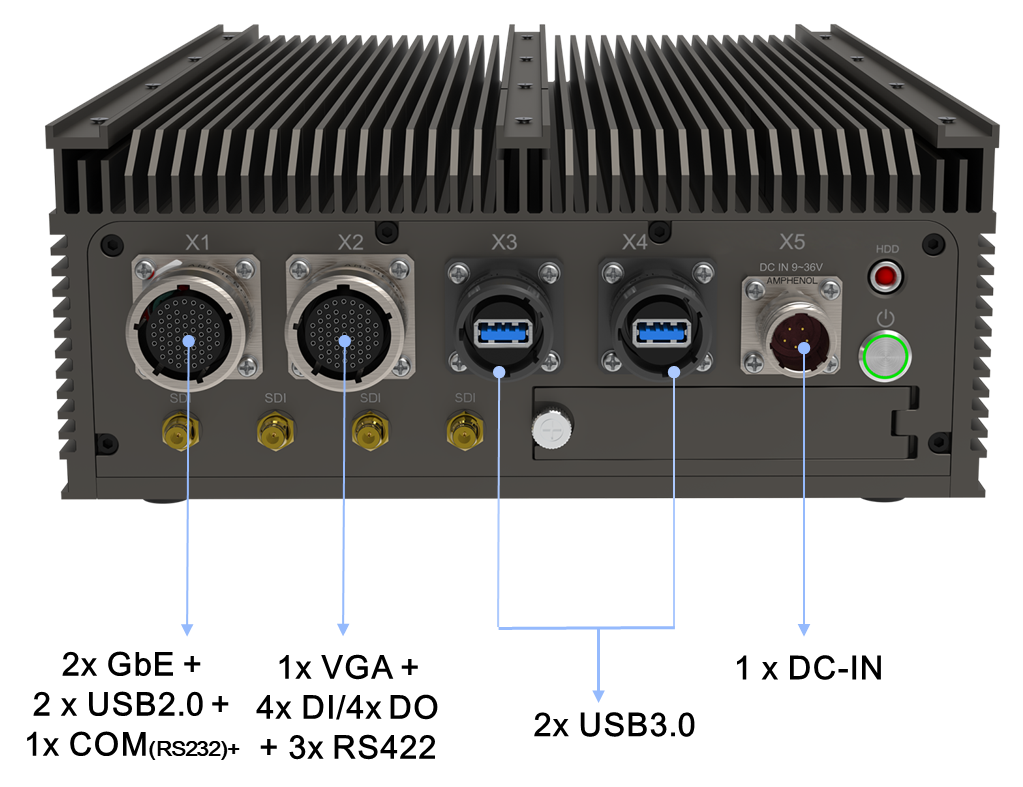 ARINC 429
ARINC 429 is the worldwide standard for data transmission in aircraft electronics. It is adopted mostly for commercial aircraft and transport aircraft network protocol standard. Communications, guidance, altitude, altitude reference, flight management, and more are all needed to work together to accomplish a successful flight. The physical connection wires are twisted pairs carrying balanced differential signaling.
The ARINC 429 unit of transmission is a fixed-length 32-bit frame, which the standard refers to as a 'word'. The bits within an ARINC 429 word are serially identified from Bit Number 1 to Bit Number or simply Bit 1 to Bit 32.