Description
SR700-X4D rugged system is a powerful system configured with 9th Gen Intel® Xeon® / Core ™ processor with up to 6 cores and 45W/25W TDP and chipset soldering onboard, delivering an amazing level of CPU performance.
Processor Core i7-9850HE plus Intel® CM246 chipset supports supports frequency up to 4.40GHz. SR700-X4D highlights on high flexibility with upgradeable CPU, GPU without constraining by small spaces and limited power consumption chassis.
Besides its extremely rugged design and high functionality, SR700-X4D is designed under MIL-STD-810 and IP65 protection, possessing high adaptation toward dust, humidity, shock, vibration, extreme temperatures and electromagnetic interference characteristics.
SR700-X4D is the perfect solution to military purposes, such as defence, marine navigation and aviation technology. It also can withstand and survive in the harshest surroundings with extended temperature operation from -40 to 60℃.
X1 : DC-IN with DTL38999 connector


X2 : 2 x USB2.0 with DTL38999 connector
X3 : 1 x 1GbE LAN with DTL38999 connector
X4 : 1 x 1GbE LAN with DTL38999 connectors
X5 : 1 x RS232/485 with DTL38999 connector
X6 : 1 x mDP with DTL38999 connector​​
Thermal Solution for Fanless System Design
The unique design of 7StarLake's stack rack series integrate both horizontal and vertical placement. Dual-sided aluminum heat sink further secures extreme heat dissipation. 7StarLake incorporates exceptional heat radiating material with exceptional CNC cutting design. Fanless method relies heavily on the precise calculation of the efficiency of each heat dissipating component. Superior fanless design guarantees silent operation that enhances the flexibility of mobility and prevents the intrusion of dust and debris. SR700-X4D supports -40°C up to 60°C extended temperature operation, achieving ultimate reliability and stability.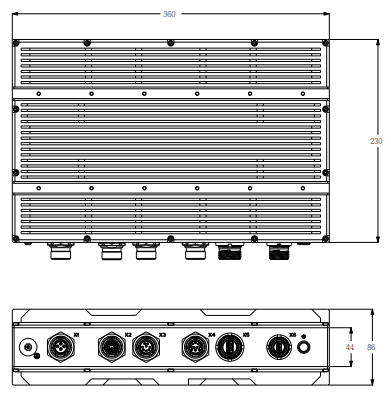 Wire Rope Vibration Isolator Design for Higher Vibration Resistance
7StarLake has especially design a Wire Rope Vibration Isolator for SR700-X4D. The Wire Rope Vibration Isolator may sustain higher vibration resistance of the product itself. 

A Wire Rope Vibration Isolator is widely apply on supporting Military equipment because it may absorb and protect the object from vibration damage in any axes simultaneously, with the protection it may extended the product life operating under long hour vibration environment and vibration shock. The isolator is long life maintenance free tool and it may unload whenever required. Besides, Wipe Rope Vibration Isolators may survive under extreme temperature, corrosion, radioactivity, extreme dry or high humidity and UV Radiation environment.
MIL-STD 810 Compliant & Full IP65 Anti-water / Dust Protection
SR stands for Stack & Rack, which means that our SR series systems are capable of stacking and rack mount cabinet placement. With key components such as CPU, memory, and storage devices all soldered onboard, the possible risk of damages caused by sudden impact of vibration and bumping can be diminished to the minimum. MIL-STD tests are established by the US government to simulate how materials would hold up to harsh environments. SR700-X4D is rigorously field-tested to meet or exceed MIL-STD810 & IP65 criteria for extremely high & low temperature, humidity, shock, and vibration. SR700-X4D has complete resistance to dust and water, making it even more ruggedized and reliable. SR700-X4D can stand against the intrusion of dust, accidental contact, and water. Not just commercial grade waterproof and dustproof, it can reach Dust Tight level, which guarantees complete protection against ingression. Even the strong power of water jet won't post a threat to it, now this is true ruggedness embodied.

MIL-STD-461
MIL-STD-461 is a military standard that establishes the control of electromagnetic interference (EMI) emissions and susceptibility characteristics of electronic, electrical & electromechanical equipment and subsystems for military equipment. EMI encompasses any undesired signals, "noise", generated by electronic equipment. Keeping EMI under control is crucial for military applications, because if it's out of control, the military will be detected by the enemy and it might cause a great loss. To design a product that meets strict requirements, engineers should possess extensive knowledge of both electrical and mechanical design to avoid unintentional generation, propagation and reception of electromagnetic energy, which may cause unwanted effects, for example, physical damage in operational equipment.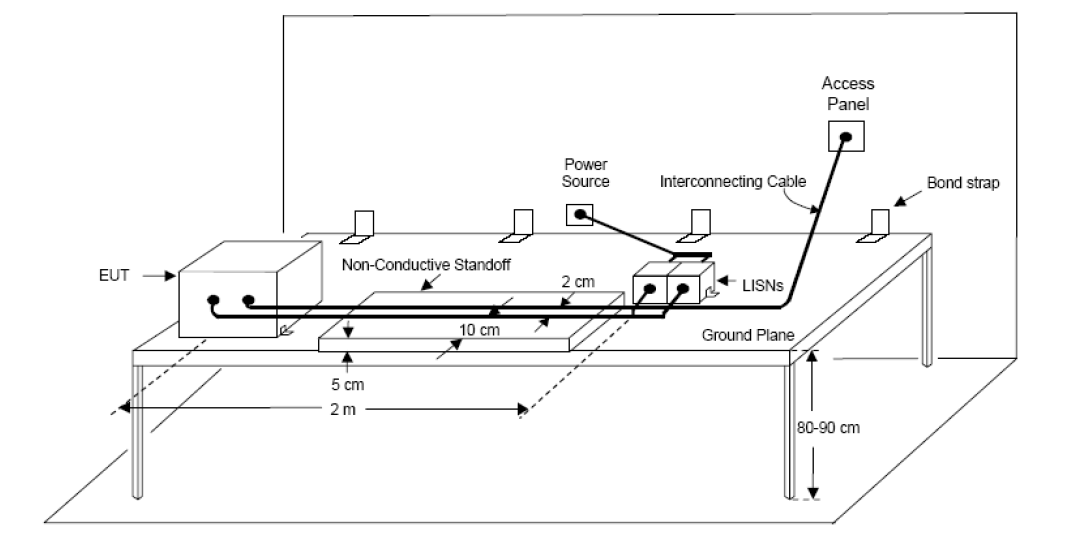 Rugged Connectors (D38999 & other MIL-STD variations )
MIL-DTL-38999 is a high-performance cylindrical connector family designed to withstand the extreme shock, exposure and vibration that are commonplace in Defense and aerospace applications. Class D38999 connectors are capable of operation within a temperature range -65 to 200℃. They are lightweight and can stand up to environmental challenges. Made with removable crimp or fixed hermetic solder contacts, these connectors provide high-vibration characteristics and are suitable for severe wind and moisture problem areas.
VG96912
Derived from MIL-D38999 Series, VG96912 incorporates lightweight, scoop proof and high contact density features. The plug and receptacle bodies are manufactured from aluminum alloy and protected by cadmium or nickel plating.