Description
CPT330A is a Rugged IoT Edge Computer. Based on Intel® Coffeelake 14nm Core™ Q370 Chipset, CPT330A can be processed by Intel® Coffeelake-Refresh i7-9700TE (8 cores, up to 3.8GHz) processor. Equipped with rich I/O interfaces, CPT330A meets demands of Industrial 4.0, such as high performance data processing configured with different I/O interfaces to cooperate with sensors. For instance, CPT330A can support different expansion modules to meet diverse requirements, such as addtional 4x PoE (RJ45 or M12), 4x RS232/422/485 with isolated DIDO (4x DI, 4x DO), or 4x RJ45 LAN ports. Thus, CPT330A owns incredible scalability to overcome challenges in V2X era. Supporting 9V~48V wide range DC-in, CPT330A doesn't dread to possible sudden drop or surge of power. Moreover, designed for the industrial automation market and to withstand 24/7 operation in harsh environments, all electronic components of CPT330A are rugged and satisfy certification standards for environmental protection.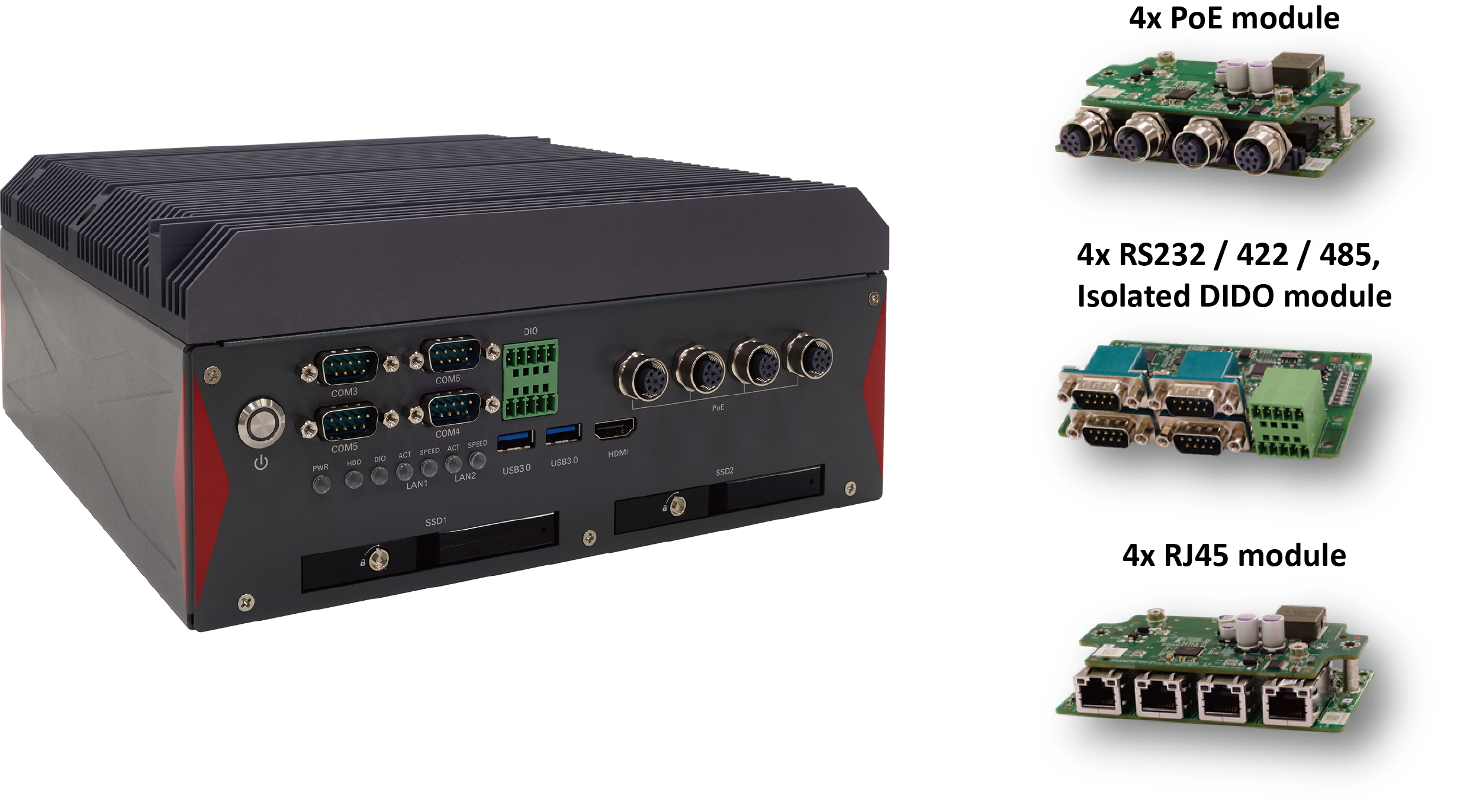 CPT330A edge computer IT Diagram
CPT330A AI vehicle computer combined with AI 3D depth sensing recognition and real-time interpretation of people counting, capacity analysis and event watching. The counting, capacity and event can be returned to the AI Cloud image recognition cloud management system for storage.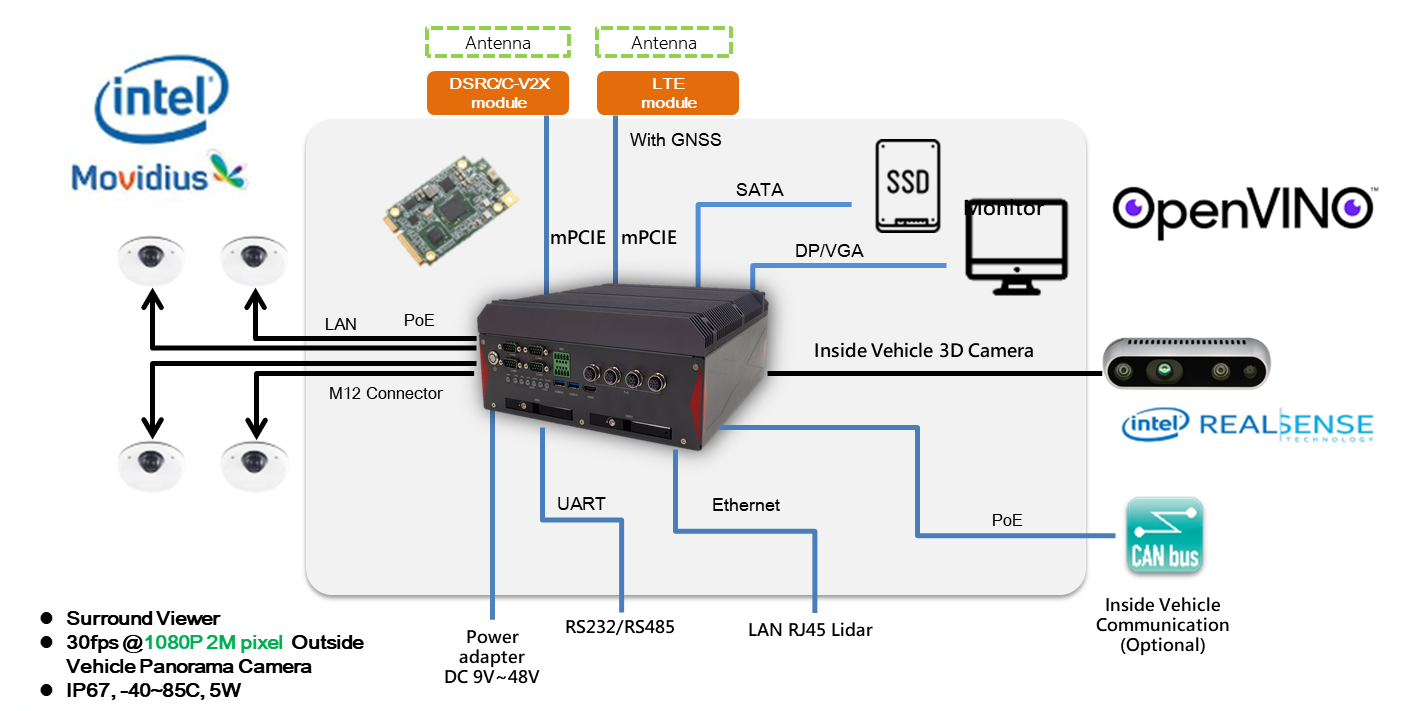 AI Computer Vision IT Diagram
Its computer, CPT330, features i7-9700TE Processor with 8x POE. Intel Movidius is the third generation and most leading VPU from Intel. Computer vision is a scientific field that deals with how computers can obtain high-profile understanding from digital images or videos. It can be applied to many fields, one of which is artificial intelligence (AI). AI computer vision mostly carries out autonomous planning. Generally speaking, computer vision is sometimes considered partial artificial intelligence field or the computer science field.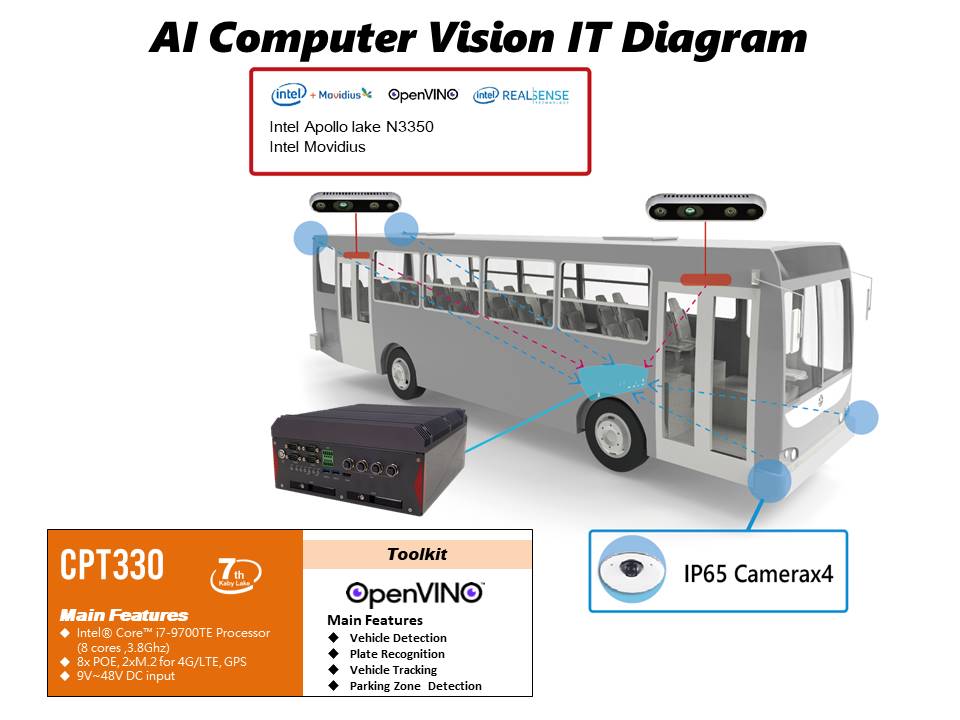 Public Safety and Mobility Service
Alerts to vehicles and their occupants could assist in numerous situations, including Passenger and Driver behavior analysis.
A. Passenger Behavior
Pedestrian tracking, Passenger Counting
Ticketing & Payment Identification
Accident Prevention (Event Watching)

B. Driver Behavior
In-vehicle Driver Behavior

Coffeelake-R CPU For IoT Applications
CPT330A adopts Intel's i7-9700TE CPU (8 Cores, 1.8GHz Turbo up to 3.8GHz), delivering the efficient performance to consolidate multiple workloads. Compare to 7th Generation CPU Processor, Coffeelake-R platform provides up to 36% better integer multi-threaded compute intensive application performance. With this flexible platform which is designed for intelligent devices and a mature ecosystem, CPT330A is able to accelerate the development of your value-add solutions enabling you to quickly put your ideas into action. CPT330A can be applied in Smart Factory, dramatically enhance the efficiency.
Raise Efficiency In Industrial 4.0
Variety sensors are used in factory, they can measure parameters that include temperature, pressure, light, vibration, water/lubricant quality, chemical content, liquid/solid levels and many more. All of the sensors are connected with different I/O interfaces, CPT330A with rich I/O interfaces is capable of satisfying these requirements. By collecting various data via CPT330A, it empowers business owners to better control and understand every aspect of their operation, and allows them to leverage instant data to boost productivity, improve processes, and drive growth.
Multi-Display Support
In Industrial 4.0 it's important for employees or systems of factories to anticipate and act before issues or challenges arise. Thus, a real-time surveillance system is necessary for factorial management. In response to new trend, CPT330A has been qualified to support multi display ports including HDMI, DVI-I, and DP, which makes CPT330A an ideal choice for those, who are looking for an industrial computer to apply it in Control Center or different display scenarios.
Gigabit Ethernet
From real-time alerts and notifications, real-time tracking to monitoring, all of them rely on high-efficient interconnection with network to act in time. So, the efficiency of network becomes one of the most important concerns in intelligent factories. Considering the concern that our customers may have, 7starlake equipped CPT330A with RJ45 Gigabit Ethernet Interfaces to ensure that factories can make more accurate decisions without any delay.
Wide Range DC-in
Also, wide range DC power input is a characteristic of CPT330A. Ranging from 9V to 48V, CPT330A allows the system to be utilized in extensive power types. The design of wide power range keeps the system's reliability and you can expect longer life-span as well. Sudden drop or surge of power posts absolutely no threat to this smart system.
Extended Temperature Range ensures the reliability of the equipment
With 7starlake's extraordinary research and perfect design, CPT330A can successfully operate from -20°C to 60°C degrees, and with our special industrial extended range of temperature layout, it can also reduce the potential computer glitches and unpredictable shutdown caused by thermal issues.