Description
Autonomous Vehicle
With the rise of advanced technology, the appearances of cutting-edge vehicles have been sprung up recently. Out of all the burgeoning vehicles, driverless vehicles have gone viral the most. Autonomous Vehicles (AV) could contribute to making future mobility more efficient, safer and cleaner. However, the road to the success is not always effortless for driverless vehicles; it requires the support of lots of technologies. Artificial Intelligence (AI) and Machine Learning (ML) is the backbone of the success of driverless vehicles, also with sensors and the computing unit that handles the main control for the self-driving vehicles, such as converting throttle input to torque requests, safety system monitoring, control loops, and power limiting. To satisfy the rapid increase in the operation speed of the sensors and the accumulated data, powerful GPGPU brings high speed, low latency, and more complex performance. Plus, while driving on uneven terrain, the system must be anti-vibration to protect the machine from damage. 7Starlake uses MXM mezzanine type structure to enhance the strength of ruggedness. Moreover, IV320CH-TX also equips 10GbE Uplink network which is wide bandwidth and can support for high-resolution video processing, to deliver low latency transmission.
CPU Features
To realize Edge AI technology, IV320CH-TX is driven by Intel® 9th Coffee Lake Processors, which features 6 cores, max frequency up to 4.4 GHz, providing high-speed data processing to support a large amount of computation. It is integrated Intel® UHD Graphics. Coffee Lake processor is built on 14nm Technology. It is high computing performance and flexibility for heavier IoT workloads.
MXM Mezzanine Type Structure to Withstand Uneven Terrain
While driving on uneven terrain, the system should be anti-vibration to protect the machine from damage; 7Starlake uses MXM mezzanine type to make the ruggedized structure for harsh environment. IV320CH-TX is driven by NVIDIA® Quadro RTX A2000 MXM GPU with 2,560 CUDA Cores 4GB/8GB GDDR6 high memory configurations. The GPU is arranged with MXM 3.1 module providing efficient GPU performance. With five channel outputs, including 4x DisplayPort 1.4a, 1x HDMI 2.1, IV320CH-TX supports various application, 4K at 120Hz or 8K at 60Hz with 10-bit color depth. RTX A2000 MXM GPU improves data-transfer speeds from CPU memory for data-intensive tasks with support for PCI Express Gen 4.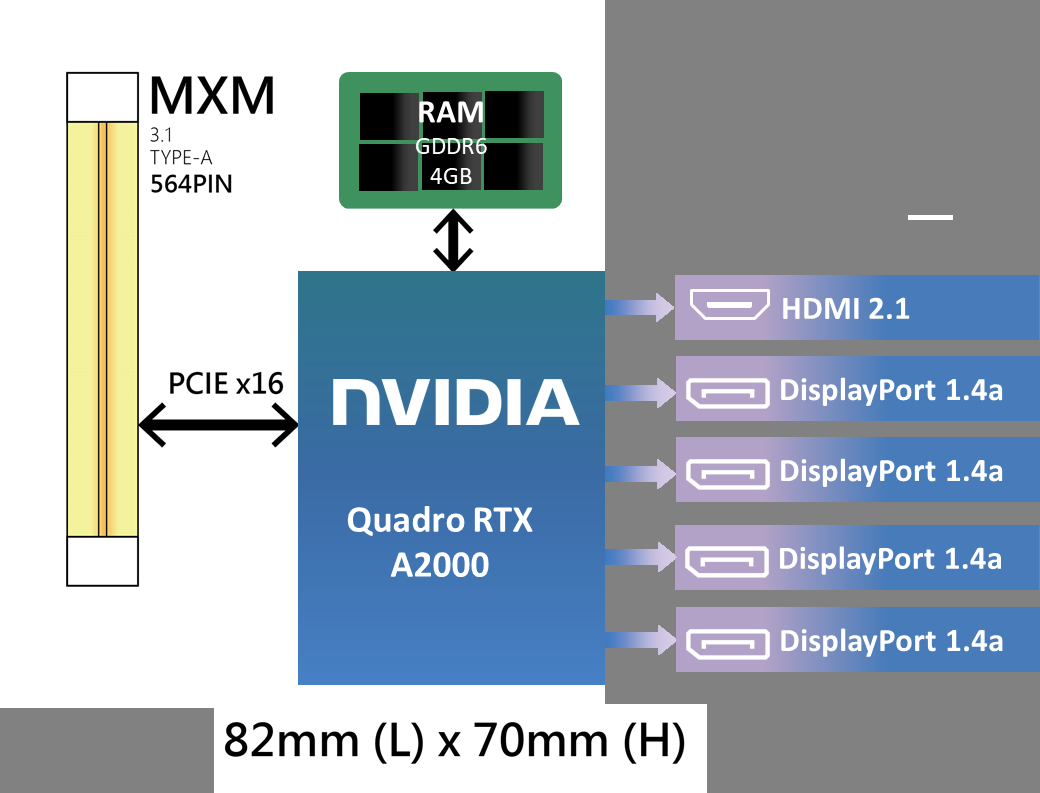 Ready for IoT
Wide 10 Gigabit Data Uplink Bandwidth Ideal for IoT
Artificial Intelligence and Machine Learning request large amount of data and fast data transmission, 10GbE uplink can support wide bandwidth for AI edge computing and led to less bottlenecks and low latency and improve work efficiency, ensuring peak network efficiency and performance for autonomous driving.
Flexible I/O Port and Expansion Slot
AI edge computer focuses on easy deployment for great variety applications; IV320TH-TX is equipped with extensive I/O ports including 1 x VGA, 2 X Giga LAN, 2 x USB, 1 COM port, especially the I/O is installed with M12 waterproof connector, ready for harsh environment. Furthermore, IV320TH-TX is equipped with 2 x Full-size mini PCIe and 1 x 2280 M key expansion slot that enable the installation for the connectivity of data transmission of diverse data-intensive applications.
Full IP65 Sealed Enclosure
The dirt, dust, and moisture in the outdoor environment can damage the system, and as the air moves from high humidity or dusty environments, it might lead to the failure of system operation. IV320TH-TX is full IP65 sealed enclosures which are designed to meet the various requirements of engineers when designing electrical and electronic systems which have to be protected. And protect against low pressure water jets from any direction, as well as condensation and water spray. It's suitable for most outdoor enclosures.