Description
Redesign Long-haul Trucking Logistic
Long-haul trucking continues to play a major role in today's supply chains. There are plenty of challenges that the trucking logistics are facing now. The most important issue is making the long-haul trucking sustainability. Due to the size and weight of most long-haul trucks, mean this sector is likely to decarbonize slower than most others. In order to improving the efficiency and traffic safety while realizing the sustainability, the fleet management becomes a popular discussion in recent years.
How Autonomous Vehicle Works
Sensors are key components to make a vehicle driverless. Camera, radar, ultrasonic and LiDAR enable an autonomous vehicle to visualize its surroundings and detect objects. Cars today are fitted with a growing number of environmental sensors that perform a multitude of tasks. The control system integrated sensors for AV encompasses three parts: perception, decision and execution.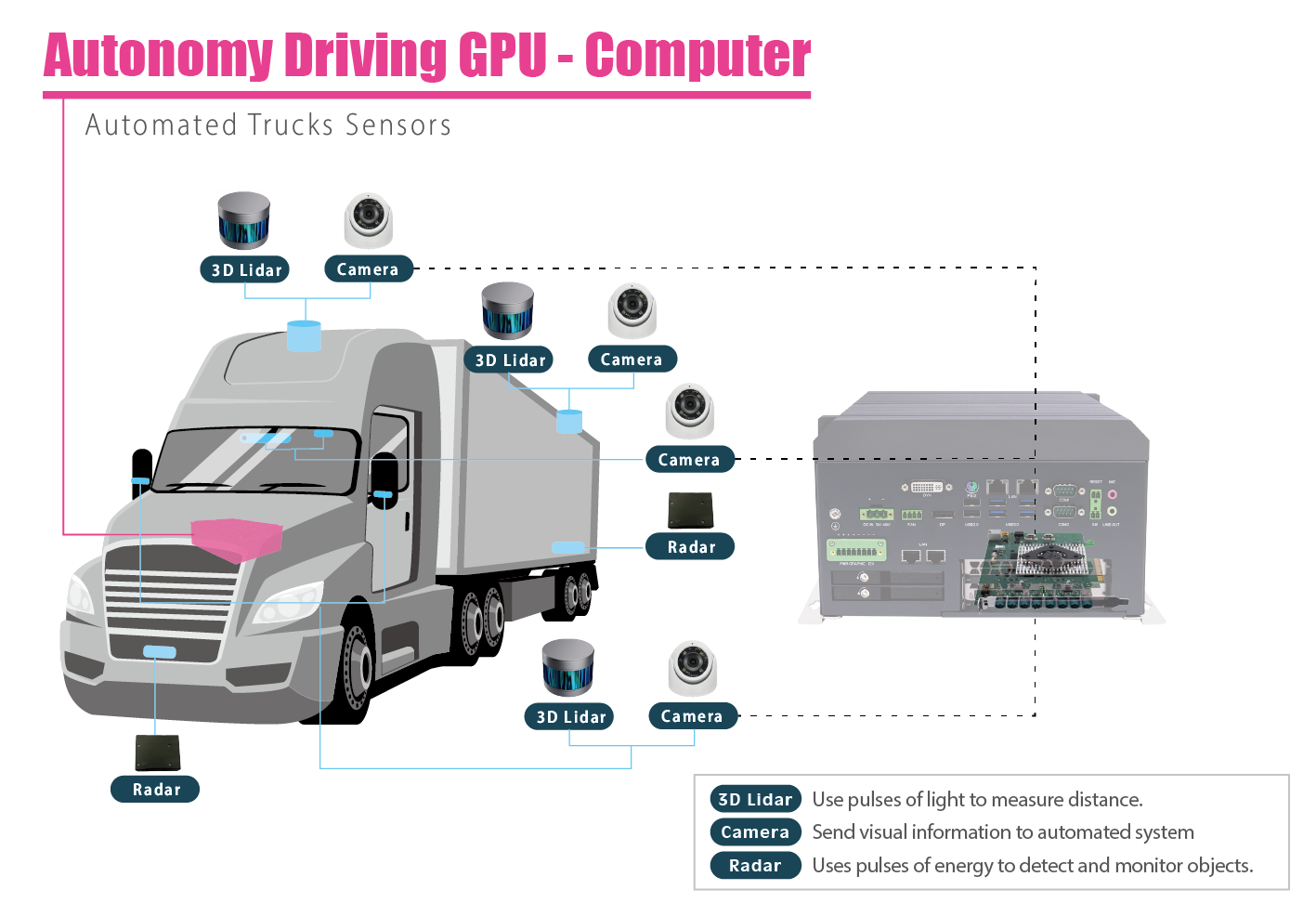 01. PERCEPTION LAYER
Perception enables sensors to not only detect objects, but also acquire and eventually classify and track objects surround.
02. DECISION LAYER
Decision-taking is one of the most challenging tasks that AVs must perform. It encompasses prediction, path planning, and obstacle avoidance. All of them performed on the basis of previous perceptions.
03.EXECUTION LAYER
Execution layer consists of interconnection between accelerator, brakes, gearbox and so forth. Driven by Real-Time Operating System (RTOS), all these devices can carry out commands issued by Driving Computer.
Required High Performance Computing Power
7StarLake GPGPU Series
An automated-driving control unit is the core controller of autonomous vehicles. 7Starlake has designed high performance GPGPU computer to EASYMILE to achieve the most advanced driverless shuttle – EZ10 . EZ10 has been launched in 2015 and operated over 26 countries and up to 200 sites, including Asia, Middle East , North America and Europe. EZ10 has no steering wheel, gas pedal or brake pedal, being 100% driverless. Relative to normal cars, hardware accelerators, such as GPUs , CPU and FPGAs are extremely important to autonomous vehicles for handling computation-intensive tasks.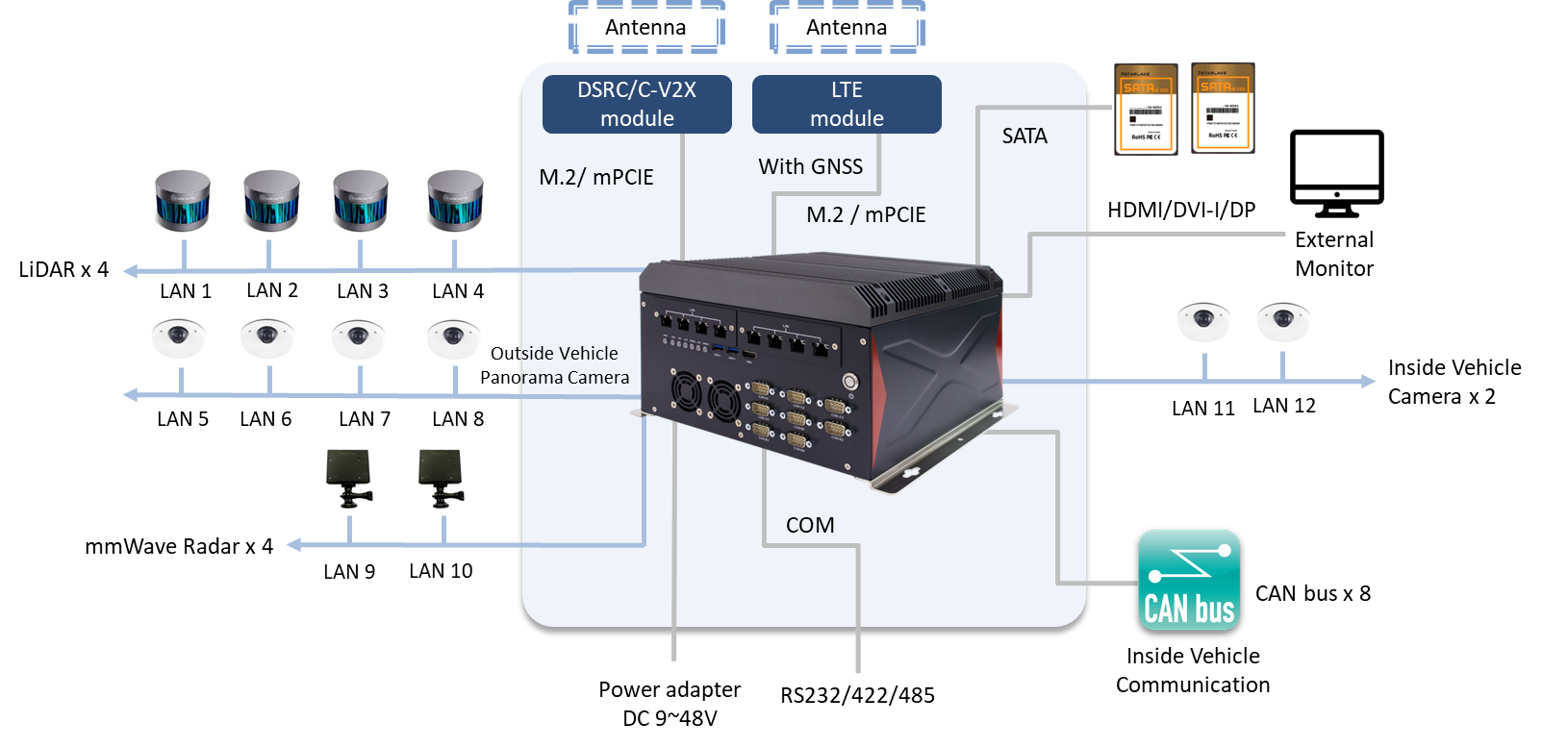 High Performance NVIDIA Graphic card
Nvidia designs powerful graphics processing units (GPUs)for gaming and highly professional market for transportation, energy, medical analyse, and public sector. Nowadays, Nvidia has diversified its business focusing on four markets: Gaming, professional visualization, data canter, and artificial intelligence. When it mentioned to typically generation developed by NVDIA, series of GeForce ,RTX graphics cards and computer systems are powered by NVIDIA Turing™.
Turing is the code name for a graphics processing unit (GPU) microarchitecture developed by Nvidia. Featuring concurrent execution of floating point and integer operations, adaptive shading technology, Turing shaders enable awesome performance increases on better performance. Get more power efficiency over previous generation for a faster, cooler and quieter gaming experience that take advantage of Turing's advanced graphics features.
Expansion Module
I. Ethernet Expansion Module
Option 1: 4 x Gigabit Ethernet (RJ45)
Option 2: 2 x Gigabit Ethernet (RJ45)
Option 3: 8 x Gigabit PoE (RJ45)
Option 4: 4 x Gigabit PoE (RJ45)
II. COM Expansion Module
2 x RS232/422/485 with isolated DIDO (4 x DI, 4 x DO)
8 x CANBUS